← Older posts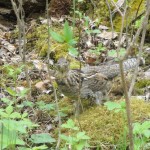 Friendly Passage on Rainy Lake has many visitors in the Fall. Ruffed Grouse fly over for our fresh clover and remind us of the hunting we did the day before. We decided to enjoy this one and let it remain as a frequent visitor. They are scattered all around the nearby islands and Canadian mainland. At your private island cabin, the hunting, fishing and wildlife come hand in hand!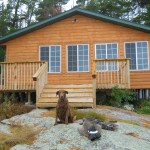 The family chesapeake, Maple, reminded me to show you how much fun she has at Friendly Passage after a two hour morning hunt. This fall was spectacular for waterfowl hunting right up until the last week in October. Bring your hunting dog up to your private island cabin and let's hunt!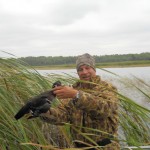 A new desire gets our blood flowing in September here at Friendly Passage. Flocks of mallard, wood duck, teal, bluebill, and Canadian geese are migrating through some of the finest marshlands. Only a ten minute boat ride from your private island cabin, and even after the hunt, I still feel the need to go fishing!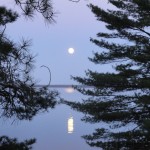 At Rainy Lake, both night and day allows for fantastic views. After a long day enjoy the moonlight light up the lake. If you enjoy late nights, the stars are out of this world. They spot the sky like a million pins poked through a black lining. Enjoy all of your stay here at Friendly Passage on Rainy Lake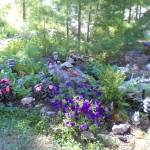 Friendly Passage's private cabin rental gets you to one of the most remote parts of the lake. After a 30-40 minute boat ride up Rainy Lake you will feel completely secluded. A little slice of home is always a pleasant site. This garden tells a story and the few red squirrels have a hay day playing with the animal statues. Have an enjoyable time up here at Friendly Passage on Rainy Lake's East Arm.
Up here at the Friendly Passage private cabin you are one with the wilderness. This Eagle here has resided on Rainy Lake since birth, and chose to nest on nearby Little Dry Island, always in full view of his meals. A nice sandy beach sits in a cove just around the bend. We consider this eagle our pet because he is always hovering over to look for fresh fish from the days catch. Enjoy all Friendly Passage has to offer up on Rainy Lake's East Arm.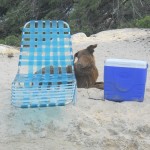 The Sand Beach by Breezy Island is a short boat ride away. In Friendly Passage on Rainy Lake every one will be able to enjoy the rays. Every one needs time to relax and unwind and this private cabin will provide priceless memories.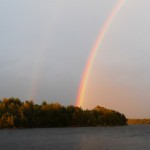 After an evening storm passed the island, the sun decided to give us this gem. At Friendly Passage on Rainy Lake these occasions are priceless as you enjoy and relax on your cabin get-away.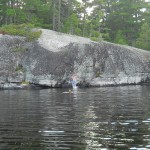 Take a sunny day and travel to near by Breezy Island. A small sand island and these cliffs will allow the whole crew to have a nice day on Rainy Lake near by Friendly Passage. The cliffs are 20 feet or more of exhilarating fun!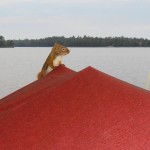 It gets a bit squirrely at Friendly Passage on Rainy Lake once in awhile. This young red squirrel decided he wanted to go on a boat ride. Enjoy wildlife at it's finest up in Friendly Passage on Rainy Lake's East Arm!
← Older posts
Recent Posts

Recent Comments

Archives

Categories

Meta